Mosquito Creek Campground
Establishment, campground, lodging, park and rv park at Icefields Parkway, Improvement District No. 9, AB T1L 1B3, Canada. Here you will find detailed information about Mosquito Creek Campground: address, phone, fax, opening hours, customer reviews, photos, directions and more.
Rating
4 /5
Based on 1 reviews
Photos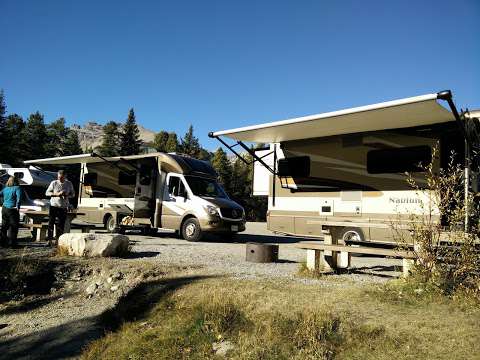 Reviews of Mosquito Creek Campground
Natalie Cove Added 2017-08-09

★ ★ ★ ★ ☆

Beautiful views of the surrounding mountains, and a stream running through, good camp spots, very rustic, (out house) (also they had turned the running water off already 3rd Oct) there is a picnic shelter with a fire indoors and each camp site has a fire pit- the only negative is the fact you have to pay for having a fire - another 8.50 on top of the 17.50 to camp ... Not to mention the 9.80 per person just to drive into the park. Yes it is world class but as it is a national park with millions of people visiting each year- it is expensive wherever you go in the area be prepared for no 'freebees'. Highly recommend.
Share this page
Additional actions
Today's weather in Improvement District No. 9
01:00
9 ℃ 1010 hPa 74 % 1 m/s 04:00
9 ℃ 1012 hPa 77 % 2 m/s 07:00
7 ℃ 1014 hPa 78 % 1 m/s 10:00
10 ℃ 1015 hPa 66 % 2 m/s 13:00
15 ℃ 1014 hPa 47 % 2 m/s 16:00
17 ℃ 1014 hPa 36 % 3 m/s 19:00
18 ℃ 1014 hPa 33 % 4 m/s 22:00
15 ℃ 1015 hPa 43 % 2 m/s