Lake Louise Campground
Establishment, campground, lodging and park at 131 Fairview Drive, Improvement District No. 9, AB T0L0TO, Canada. Here you will find detailed information about Lake Louise Campground: address, phone, fax, opening hours, customer reviews, photos, directions and more.
Rating
3 /5
Based on 1 reviews
Photos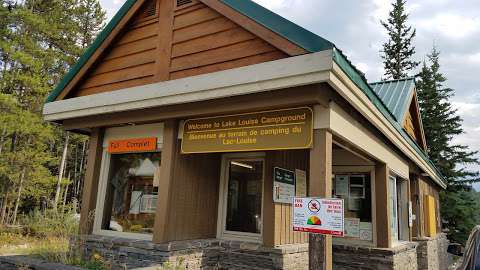 Reviews of Lake Louise Campground
Karah Added 2017-08-08

★ ★ ★ ☆ ☆

We pulled up hoping they might have an opening during Peak Season, and they did! We were very pleased, and we pulled into our spot which was right next to the bathrooms (which was actually very nice as we were close to the wash station and the garbage bins, and it did not smell at all) and then left for a days adventure up at Lake Louise. We drove to the Lake and waited for a parking spot (only took 5 minutes). We then went back to the campsite and noticed someone had taken our towels that we left hanging to dry. I went to take a shower and there was a massive line, and the water was FREEZING! I hopped in and out really quick. When I got back to the site my boyfriend informed me that a nice man had taken our towels thinking we had abandoned them and then brought them back to us (after he used them to wash dishes). We had dinner, had easy access to the washing station (which had a line), and my boyfriend went to take a shower later (he had hot water of course). We would stay here again, and we did not hear the trains at all (I sleep very lightly and I did not hear one, but maybe we were lucky that night).
Share this page
Additional actions
Today's weather in Improvement District No. 9
01:00
9 ℃ 1010 hPa 74 % 1 m/s 04:00
9 ℃ 1012 hPa 77 % 2 m/s 07:00
7 ℃ 1014 hPa 78 % 1 m/s 10:00
10 ℃ 1015 hPa 66 % 2 m/s 13:00
15 ℃ 1014 hPa 47 % 2 m/s 16:00
17 ℃ 1014 hPa 36 % 3 m/s 19:00
18 ℃ 1014 hPa 33 % 4 m/s 22:00
15 ℃ 1015 hPa 43 % 2 m/s