Banff Lake Cruise
Establishment and travel agency at Lake Minnewanka Scenic Dr, Improvement District No. 9, AB T1L 1J3, Canada. Here you will find detailed information about Banff Lake Cruise: address, phone, fax, opening hours, customer reviews, photos, directions and more.
Opening hours
| | |
| --- | --- |
| Sunday | 10:00am — 06:00pm |
| Monday | 10:00am — 06:00pm |
| Tuesday | 10:00am — 06:00pm |
| Wednesday | 10:00am — 06:00pm |
| Thursday | 10:00am — 06:00pm |
| Friday | 10:00am — 06:00pm |
| Saturday | 10:00am — 06:00pm |
Rating
1 /5
Based on 1 reviews
Photos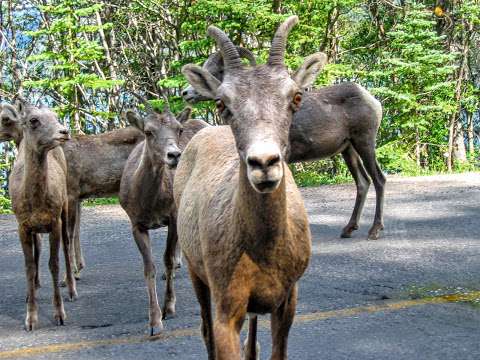 Reviews of Banff Lake Cruise
B C Added 2018-04-08

★ ☆ ☆ ☆ ☆

This lake cruise was an absolute rip off. I only did it because I bought the complete explorer package. Weather wasn't good to begin with as the skies were smokey from wildfires. That was fine as they can't control the weather. Basically on this "cruise," they take the boat right to the middle of the lake and back within the hour. They don't go closer to the shore to even give you a chance to spot wildlife. When I questioned why we are just in the middle of the lake, the guide said the captain thinks that it's too smokey and that we are unlikely to see any animals. Absolutely ridiculous. I don't think this is reason enough to avoid the shores. The guide was good and informative and was totally fine until he went for a joke comparing a Kardashian's behind with a black bear's behind. Highly inappropriate and frankly tasteless. Again, don't bother with this cruise. It's a complete waste of money and time.
Share this page
Additional actions
Today's weather in Improvement District No. 9
01:00
9 ℃ 1010 hPa 74 % 1 m/s 04:00
9 ℃ 1012 hPa 77 % 2 m/s 07:00
7 ℃ 1014 hPa 78 % 1 m/s 10:00
10 ℃ 1015 hPa 66 % 2 m/s 13:00
15 ℃ 1014 hPa 47 % 2 m/s 16:00
17 ℃ 1014 hPa 36 % 3 m/s 19:00
18 ℃ 1014 hPa 33 % 4 m/s 22:00
15 ℃ 1015 hPa 43 % 2 m/s